Every year during our annual meeting & banquet. The Gretna Area Chamber of Commerce awards the following awards. Our members nominate & vote on the winners.
The Business of the Year award recognizes a Gretna business that has significantly contributed to Gretna's economy and business environment. The winner in this category should be considered a leader in the community for reasons such as customer and employee commitment or how they make a difference within their own industry.
This award recognizes a new business that has been in business for less than three years. The winner in this category should be considered a successful start-up that has laid the foundation for future growth and achievement by developing sound business strategies and practices.
These nominees must have been established in the Gretna area for more than 10 years. The winner should practice customer-oriented services, always striving for quality.
These nominees must be INDIVIDUALS who show dedication in supporting the local community, schools, and nonprofit organizations through financial aid, products, services, and volunteer support. The winner should be someone who is a constant presence in our community, maybe in the spotlight but often working quietly in the background.  Someone with their hand in much, who this community would greatly miss if we had to replace them.  This person should be involved in both the business community and the Chamber as a whole (in other words, it would be logical that this category might be individuals who help represent multiple members - businesses and/or nonprofits in our community).
This nominee must be a Non-Profit member of the Gretna Chamber of Commerce in good standing. The winner should be a non-profit organization deserving of recognition for the programs or services that have made a difference in the lives of the Gretna area residents they serve.
Our Business of the Year has been making an impact in Gretna before they even broke ground. This business strives to be a community partner by giving back in so many ways. This business has had such an impact on our community through their products and services as well as bringing 100's of jobs to Gretna. It's great that Hy-Vee chose Gretna to be the home of their largest store in the nation! Brandon and his team love the Gretna community and it shows in so many ways. Please help me congratulate Hy-Vee – our 2023 Business of the Year!
2023 Nominees:
Aislinn Medical Spa

B Douglas Construction

Fareway - Gretna

Godfathers Pizza

Gretna Vision Source

Hy-Vee Gretna

Meylor Chiropractic

Midwest Pub Trivia

Nash Automotive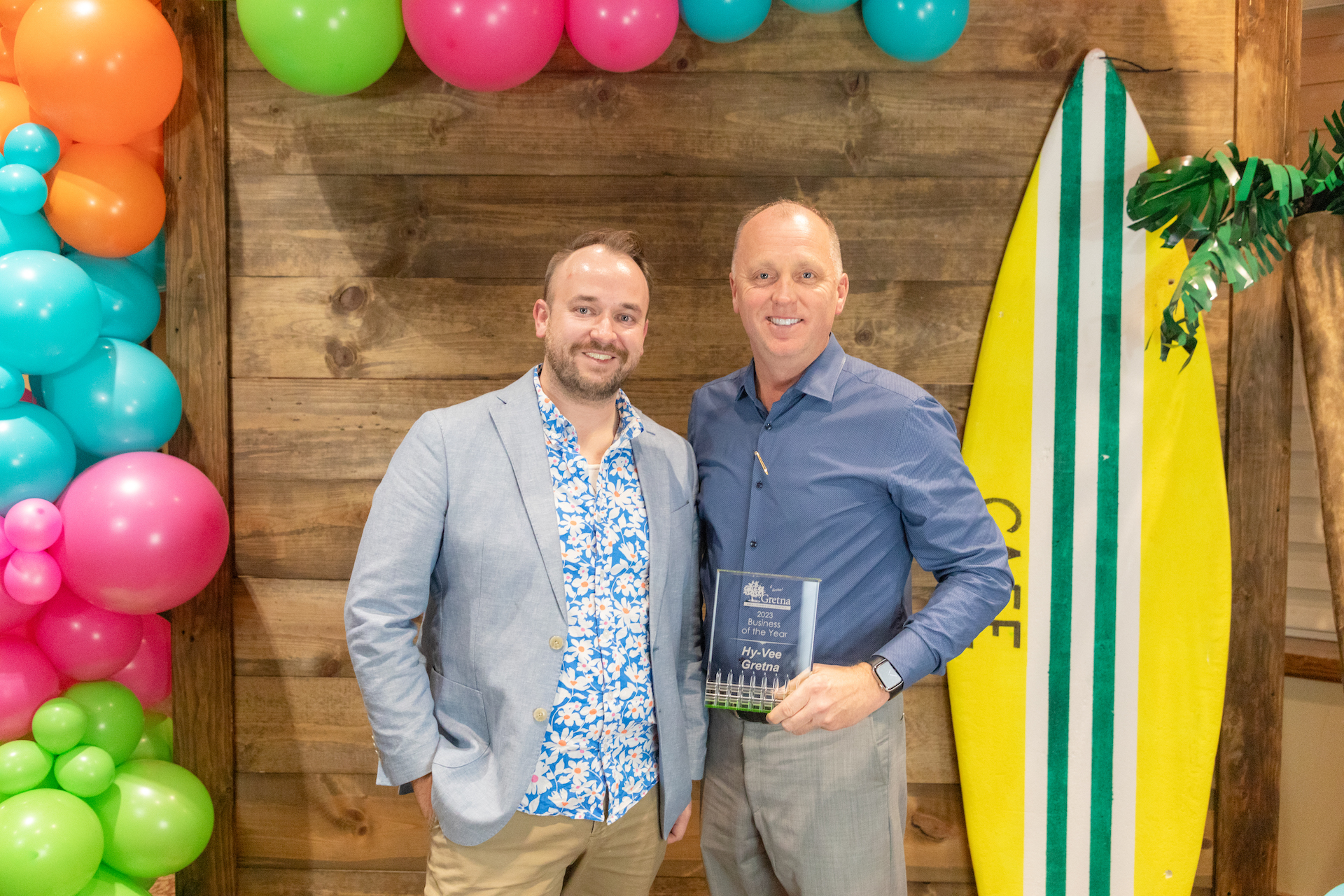 Our winner loves to support small and local, constantly looking for ways to build
partnerships. They bring new and different experiences to our community – they
are master collaborators! Their story of taking an idea and turning it into a place
for Gretna to come relax and have fun while enjoying some great locally brewed
beer while also noshing on fabulous food is a true example of what we love about
new business success! Please celebrate our New Business of the Year – Heavy Brewing!
2023 Nominees:
Cruizin Cones

Dragon Wok

Gretna Crossing YMCA

Heavy Brewing

Inflate Balloons

Mosquito Authority

Nash Automotive

Stories Coffee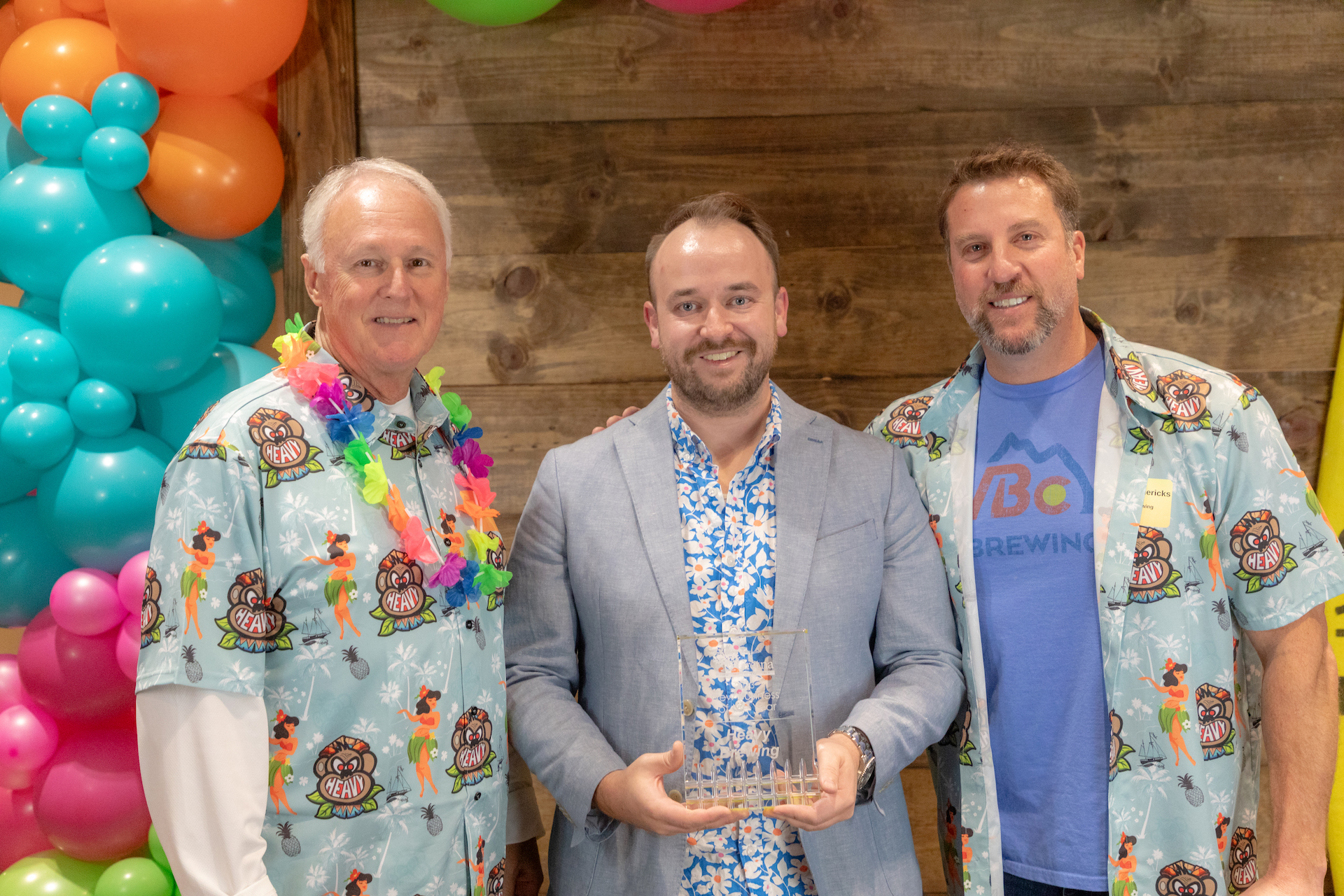 This business has been servicing the Gretna area since 2005. This family-owned and operated business has a very important role in our community – taking care of our littles With A Big Heart! Love to Learn Childcare has been keeping our babies and kids safe, happy, and growing for years. Their dedication to a curriculum to guide growth and development is undoubtedly a major contribution to the growth of our community for years to come! Congratulations to Love to Learn Childcare – our 2023 Gold Gretna Business!
2023 Nominees:
Dove Auto

Fredrick Brothers Rental

Godfathers Pizza

Gretna Gas & Lube

Gretna Insurance Agency

Gretna Vision Source

Langdons Bar & Grill

Love to Learn Childcare

The Beanery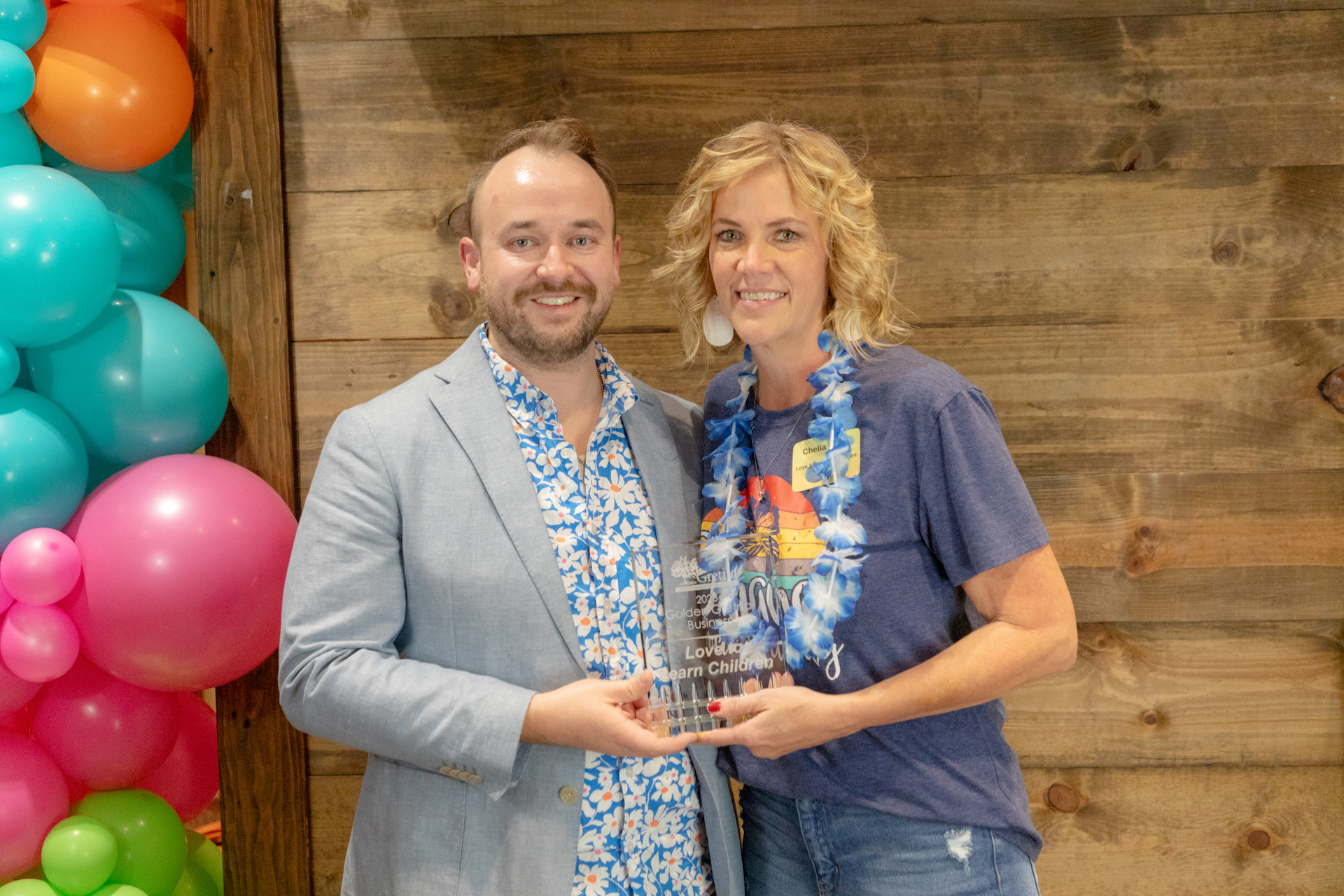 This recipient did so much and received so many nominations from the Gretna community! Just a few things they've had their hands in are the sold-out Cornhole tournament put on by the Optimist Club, work to get the city tennis courts repurposed into some amazing well-used pickleball courts (not to mention teaching pickleball), and her volunteer work with St. Pat's Knights of Columbus and Least of My Brethren. And not only that, but she has been doing a wonderful job since she came on staff at the Chamber. Please join us in recognizing Carrie Reitmeier – our Community Loyalty Award recipient.
2023 Nominees:
Loren Foged

Mark Hauptman

Jack Koke

Carrie Reitmeier

Ron VanOeveren

Jim Warren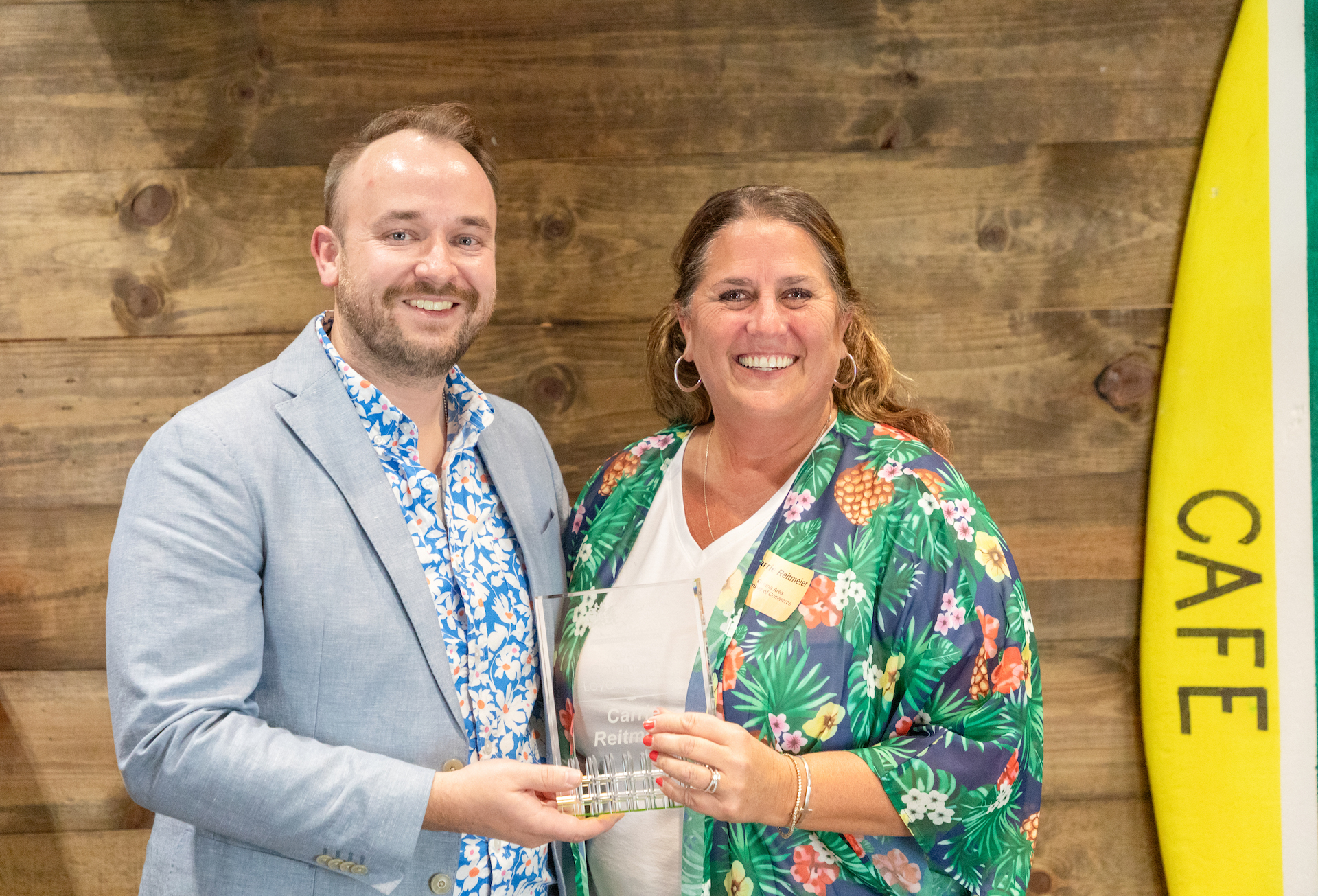 This winner received multiple nominations and they offer so much to our community through educational opportunities and activities – more than just books! The Chamber appreciates their partnership in promoting and maintaining the Community Calendar for all of Gretna to utilize! Let's give a big round of applause for the Gretna Library!
2023 Nominees:
Gretna Baptist Church

Gretna Crossing YMCA

Gretna Public Library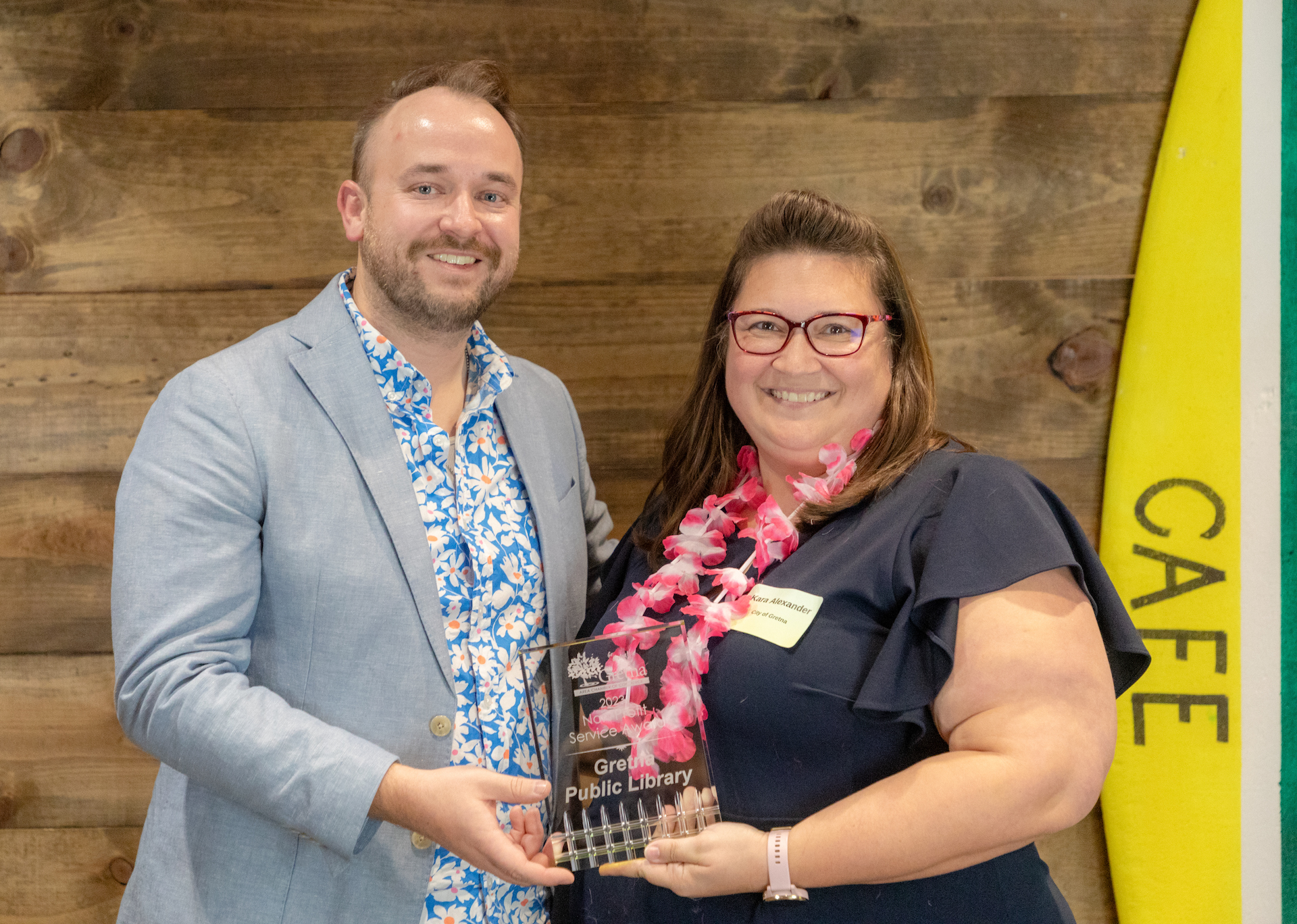 Our winner is such a fun go-getter with a real 'can do' frame of mind. She is always open to the new and crazy ideas that Carrie comes up with. You can spot her on our social media channels regularly highlighting businesses as well as the Chamber. She's so easy to work with and we appreciate her 'Go Gretna Chamber' attitude! Please join us in congratulating Emily Lynch – Chamber Ambassador of the Year!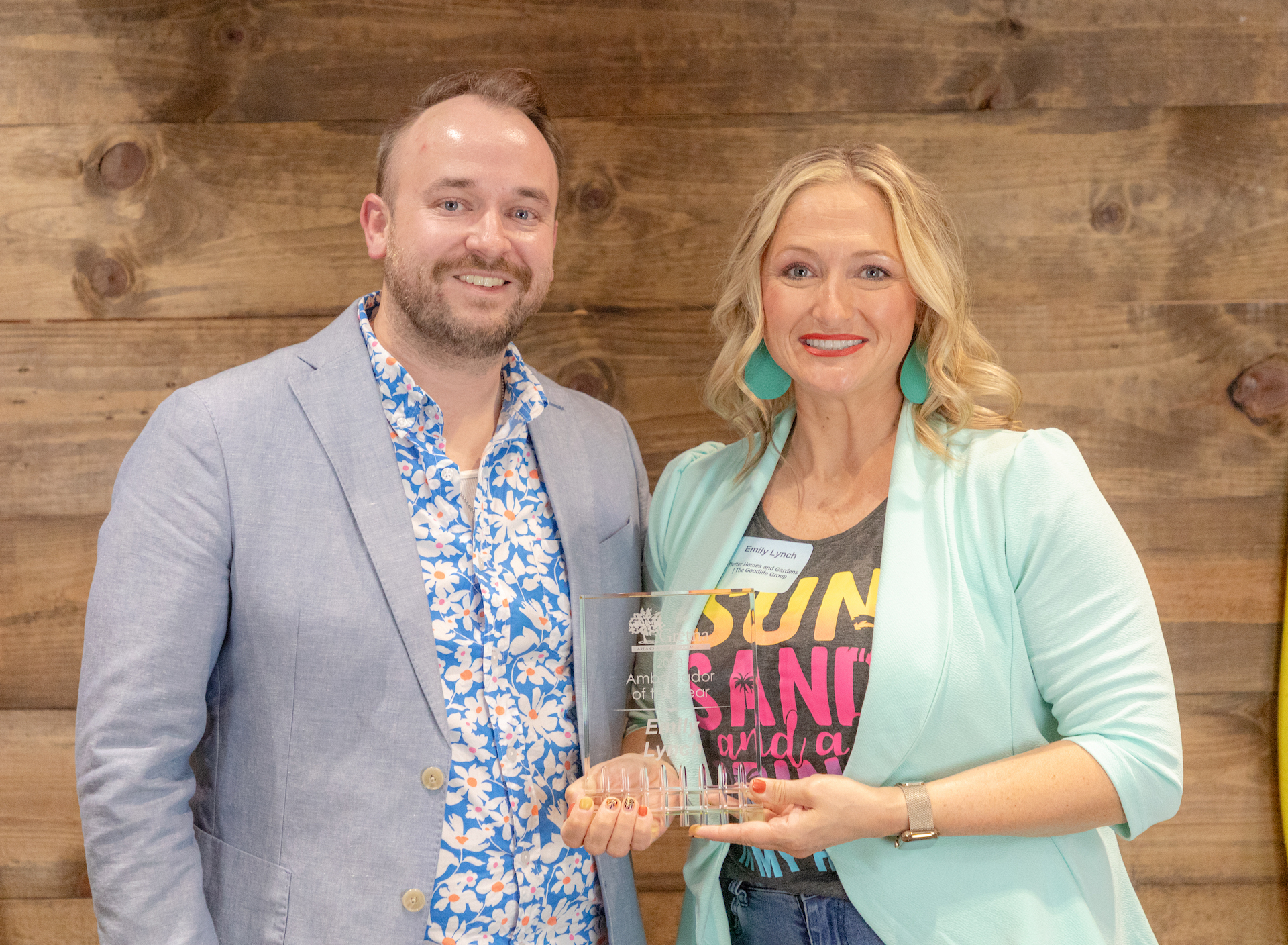 H&H Lawn & Landscape - WINNER

Gretna Ace Hardware

Aislinn Medical Spa

B Douglas Construction Solutions

Gretna Nutrition

Gretna Vision Source

Hillcrest Health Services

Journey Church

Vala's Pumpkin Patch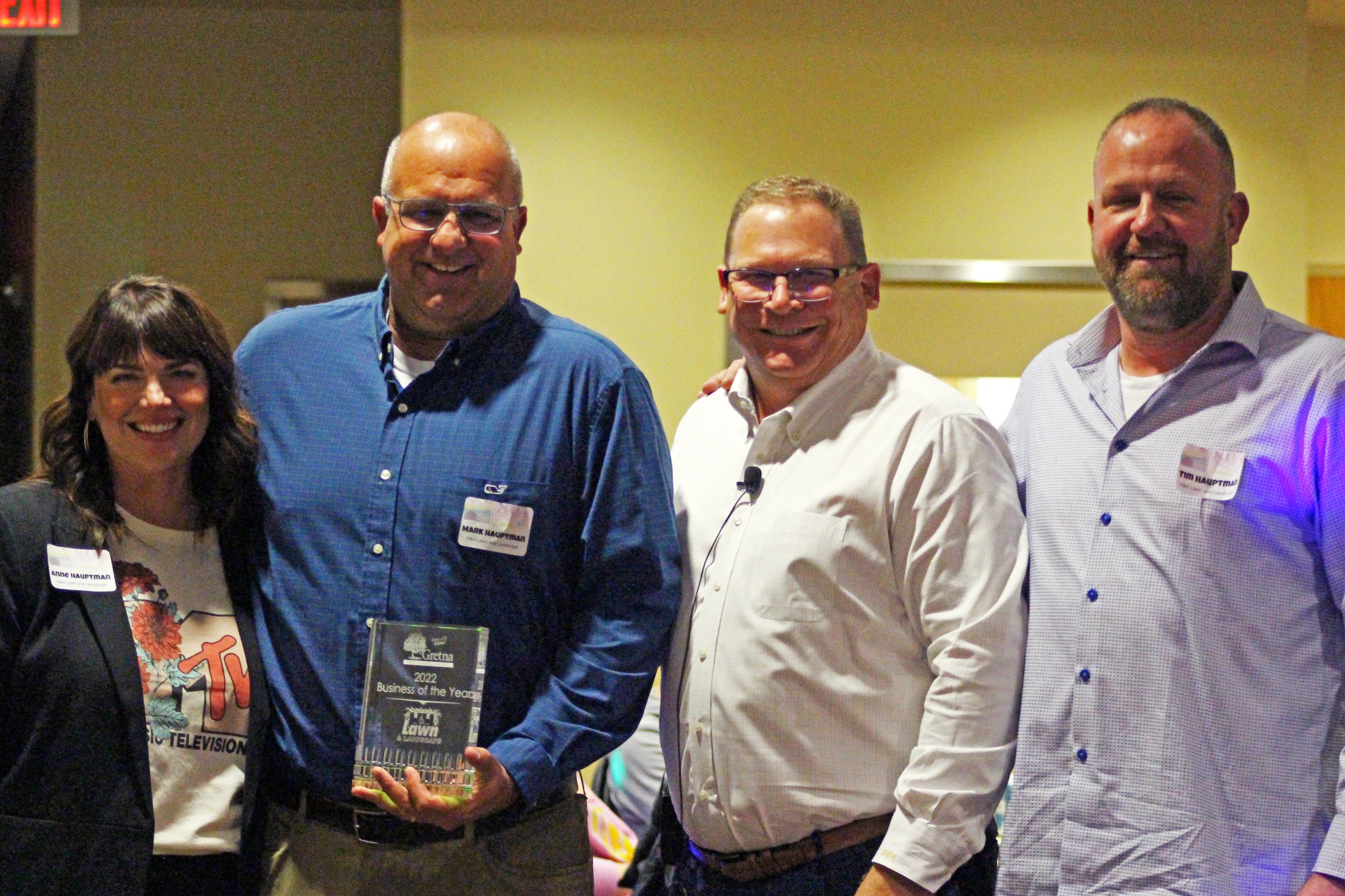 Fareway Grocery - WINNER

Aislinn Medical Spa

Gretna Music Lessons

Inflate Balloons

Integrative Chiropractic & Functional Medicine

Stories Coffee

The Beanery - Giles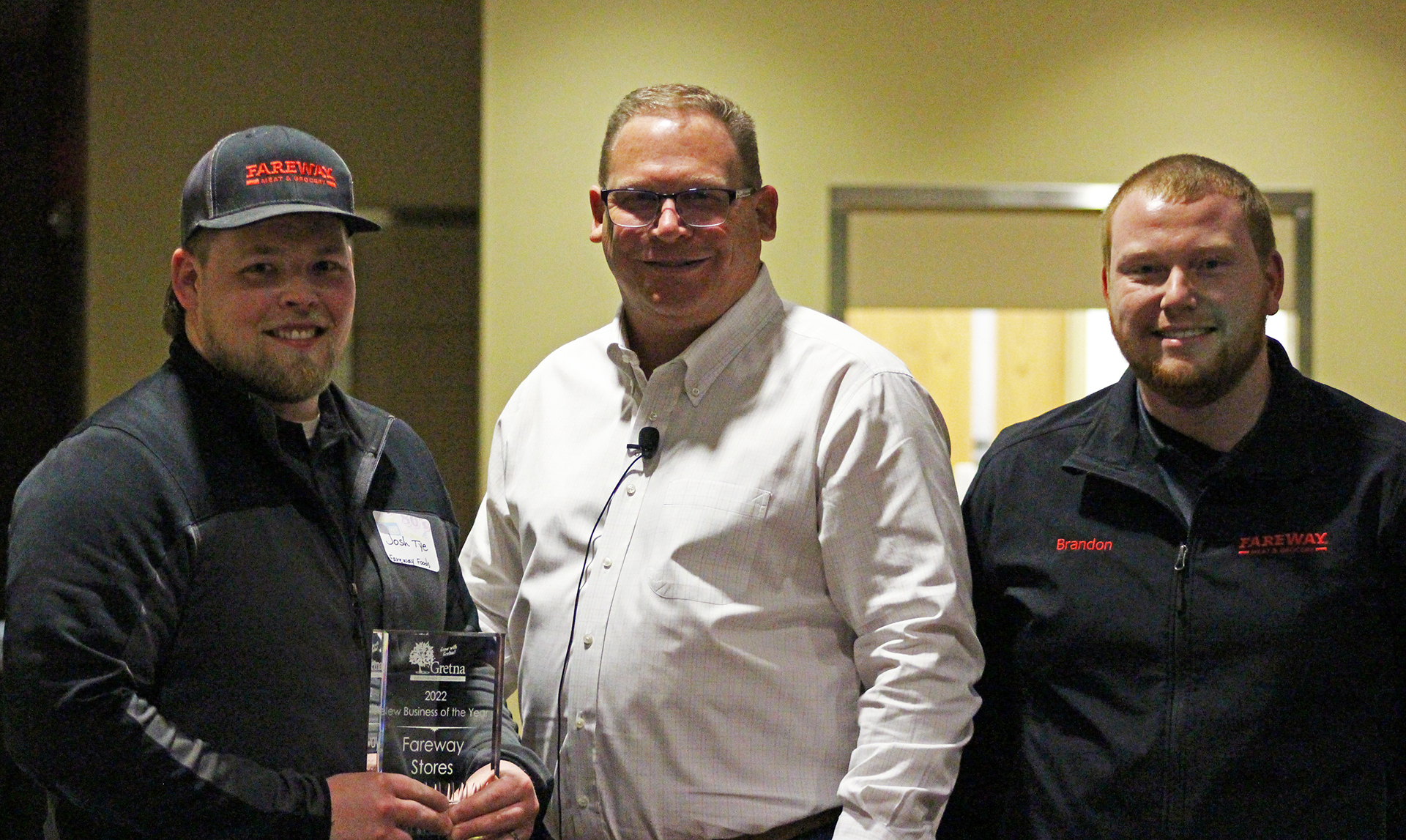 F&M Bank - WINNER

B Douglas Construction Solutions

City of Gretna

Gretna Chiropractic

Gretna Vision Source

Gretna Wine & Spirits

J Paul Goldenstein

Kersten's Midwest Auto Body

Love to Learn

McKinney's Grocery

Meylor Family Chiropractic

Saint Patrick's Catholic Church

Vala's Pumpkin Patch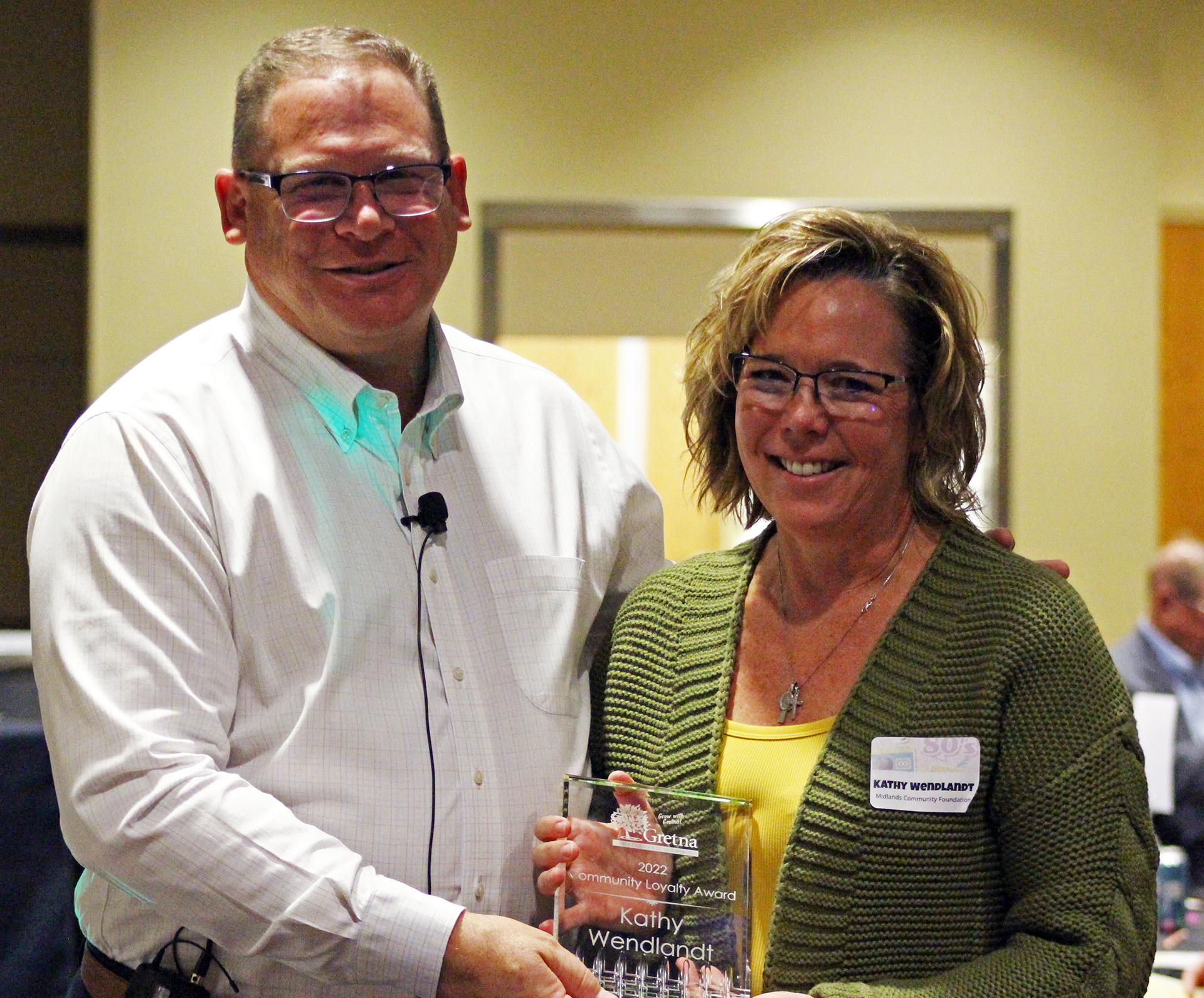 Gretna Days Foundation - WINNER

American Legion Post 216

Gretna Arbor Society

Gretna Community Foundation

Gretna Library

Gretna Optimists

Gretna Public Library Foundation

Gretna United Methodist Church

Grow Sarpy

HETRA

Matt's Music Memorial

Campus Life/Youth for Christ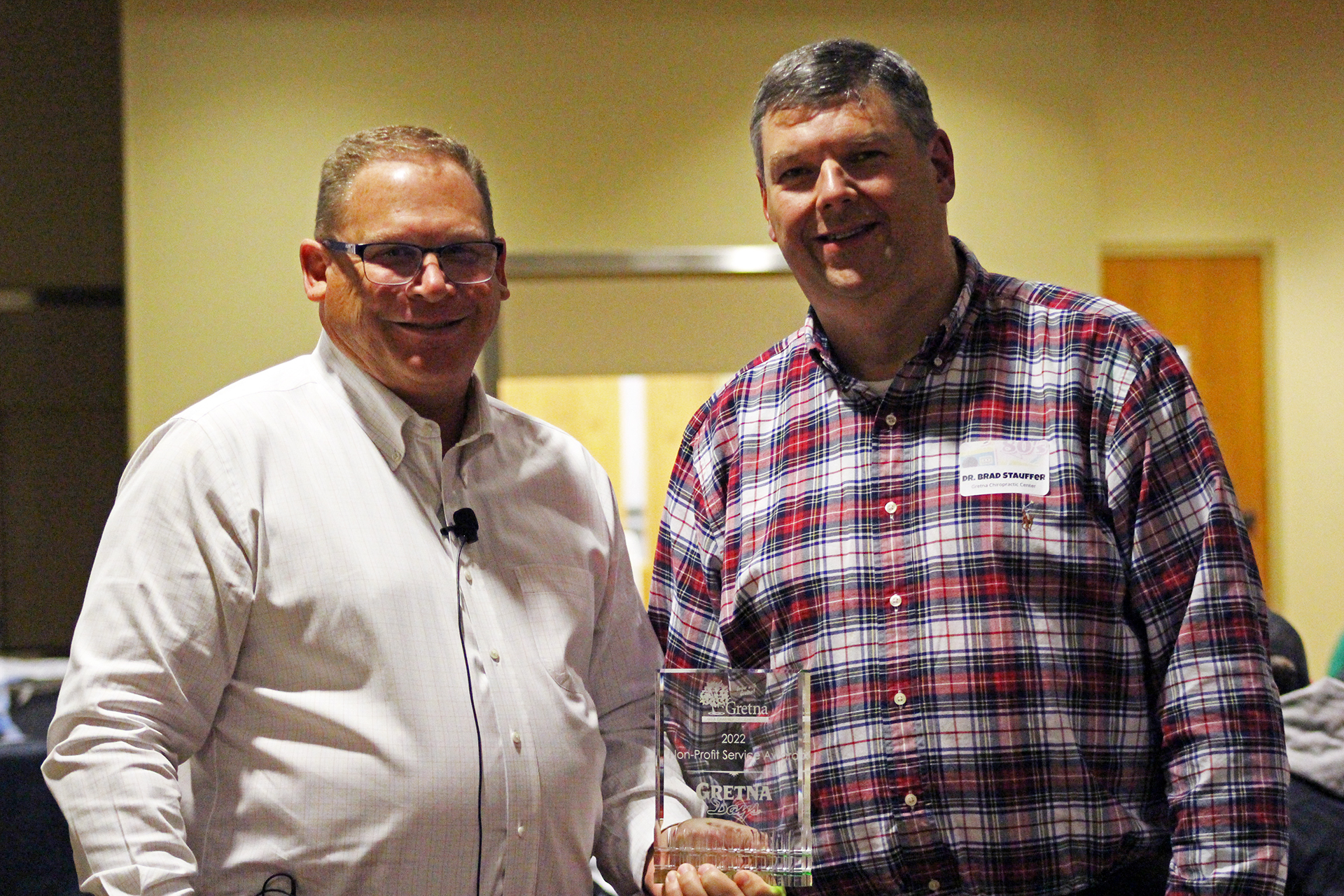 2021 Photos courtesy of Rachel George Photos, Gretna Breeze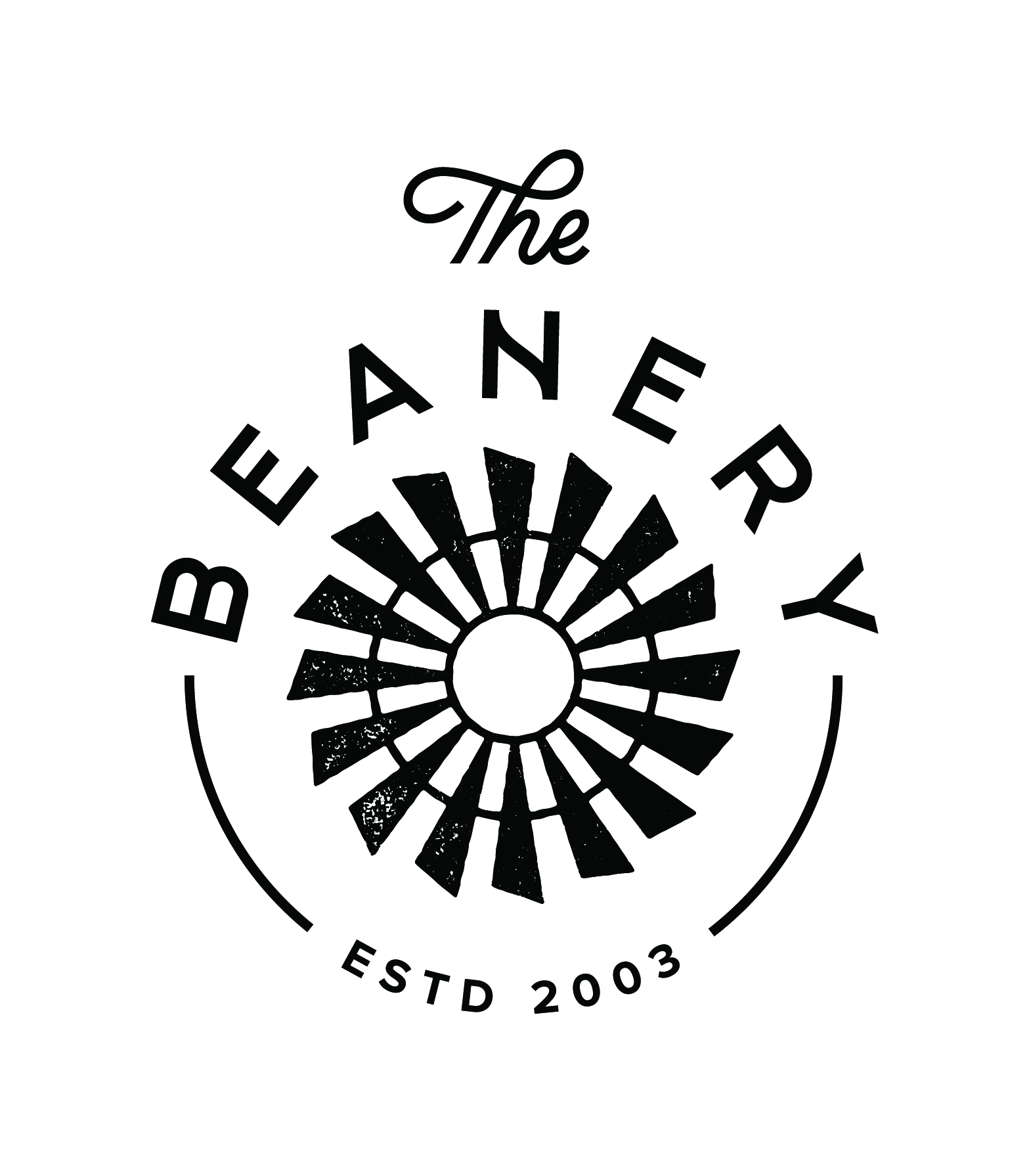 Gretna Performance Center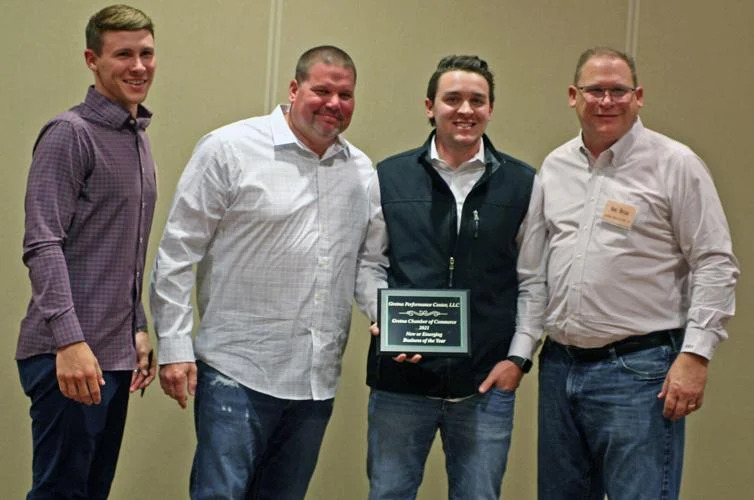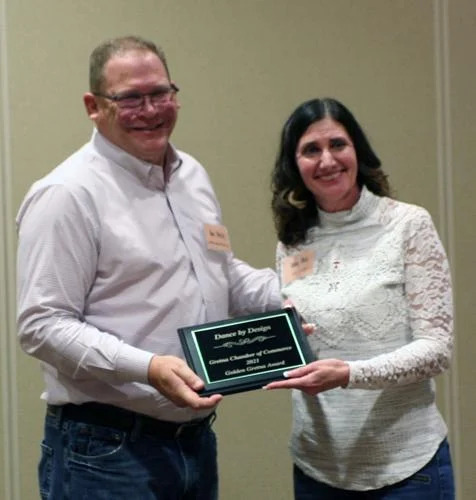 Brad Meylor, Meylor Chiropractic.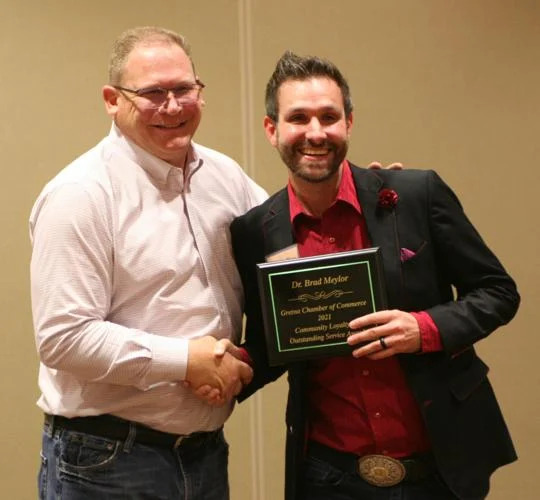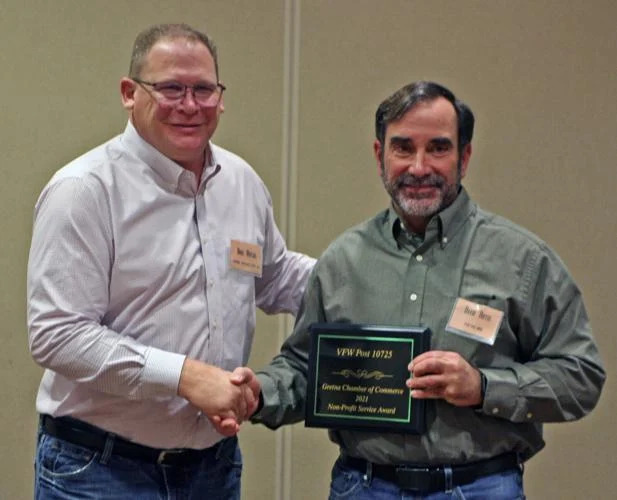 2020 Photos courtesy of Olsen Photography
Tiburon Golf Club & Banquet Facility

Christina Kadlec, Kingdom Insurance Group, Inc.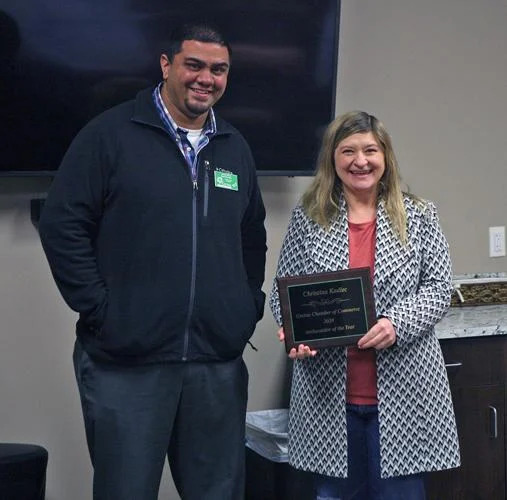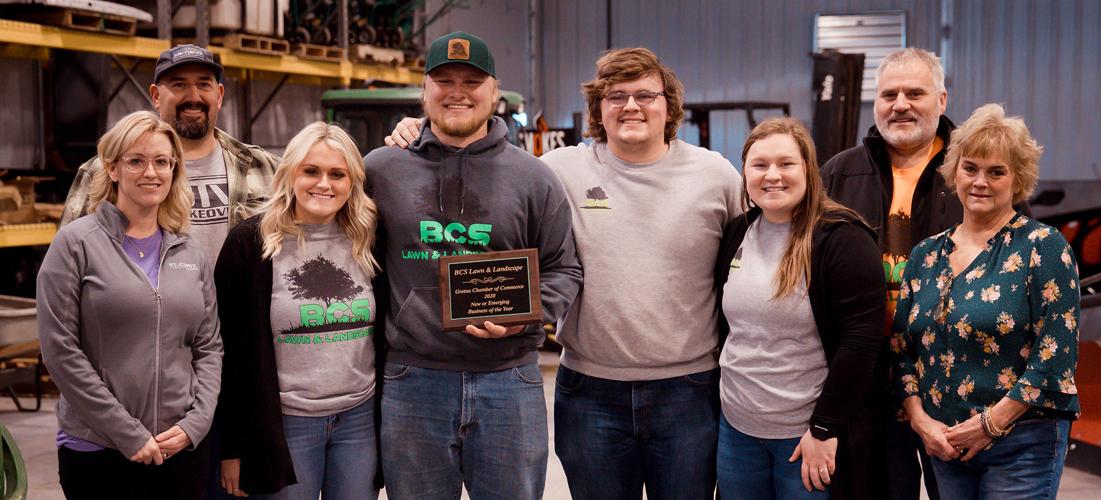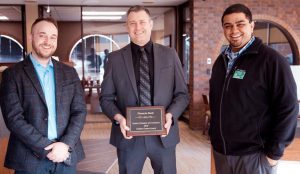 Community Pharmacy, Kyle Janssen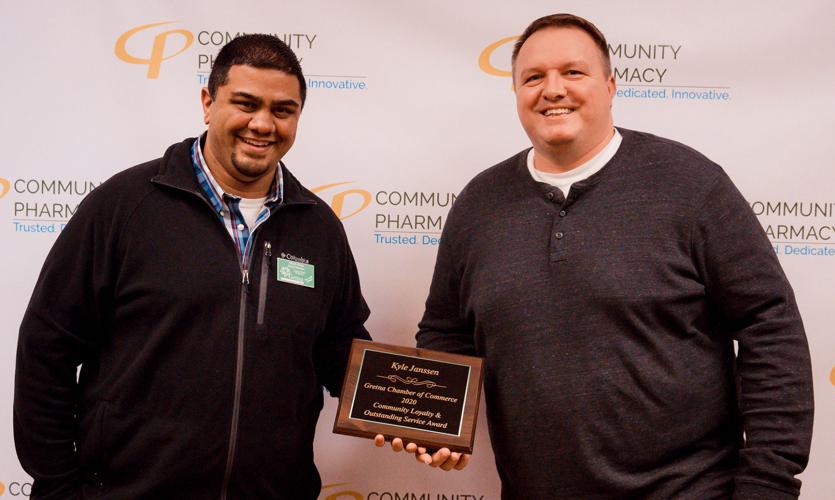 Gretna Knights of Columbus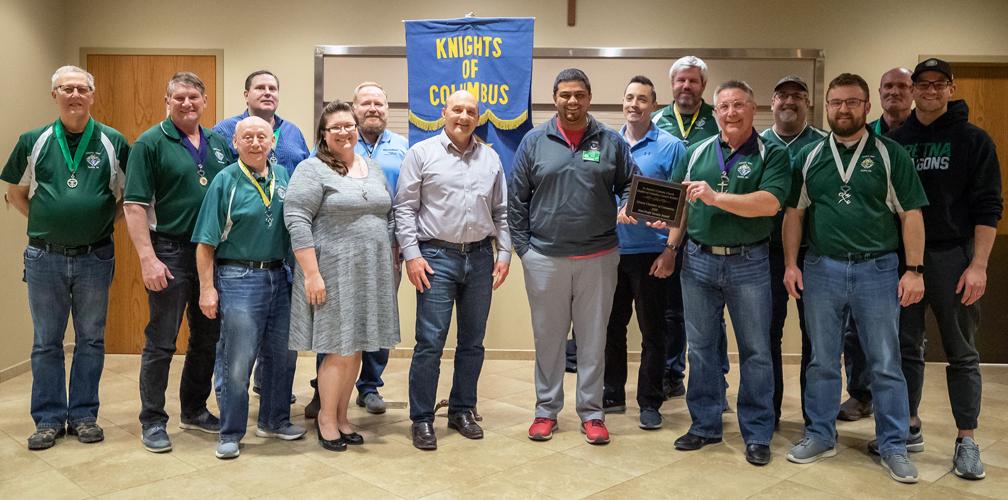 We'll Smoke U BBQ - WINNER
J. Paul Goldenstein, CPA
Scrappin' Studio
Methodist Physicians Clinic
Gretna Small Engine
Gretna Chiropractic Center
Gretna Insurance Agency

Nebraska Crossing Outlets - WINNER
Gretna Vision Source
Edward Jones - Lori Blum
Shell Speede Mart and Car Wash
YogaBliss, LLC
Pro-Cuts/SuperCuts
Big Dogs Properties

New or Emerging Business of the Year
Ace Hardware - WINNER
Olsen Photography
Children's Physicians, Gretna
Jimmy John's
Dynamic Physical Therapy
Hoffman's Hoops Academy
Bricker Accounting and Tax Services
Powersports Connection Inc.

Gretna Wine and Spirits - WINNER
GP Fleck and Sons, Inc
Snell Heating and Air Conditioning
Gretna Family Health
Gretna Breeze
Gretna Animal Clinic
Sun Valley Nursery
Finders Keepers Landscaping
Gretna Sanitation
Heartland Pest Control

Delectables LLC - WINNER
ATA Martial Arts/Krav Maga
Gretna Gas and Lube
The Roofing Moose
Wilcoxson Financial
Silver Ridge Assisted Living
Godfathers Pizza, Gretna
Heartland Equine Therapeutic Riding Academy (HETRA)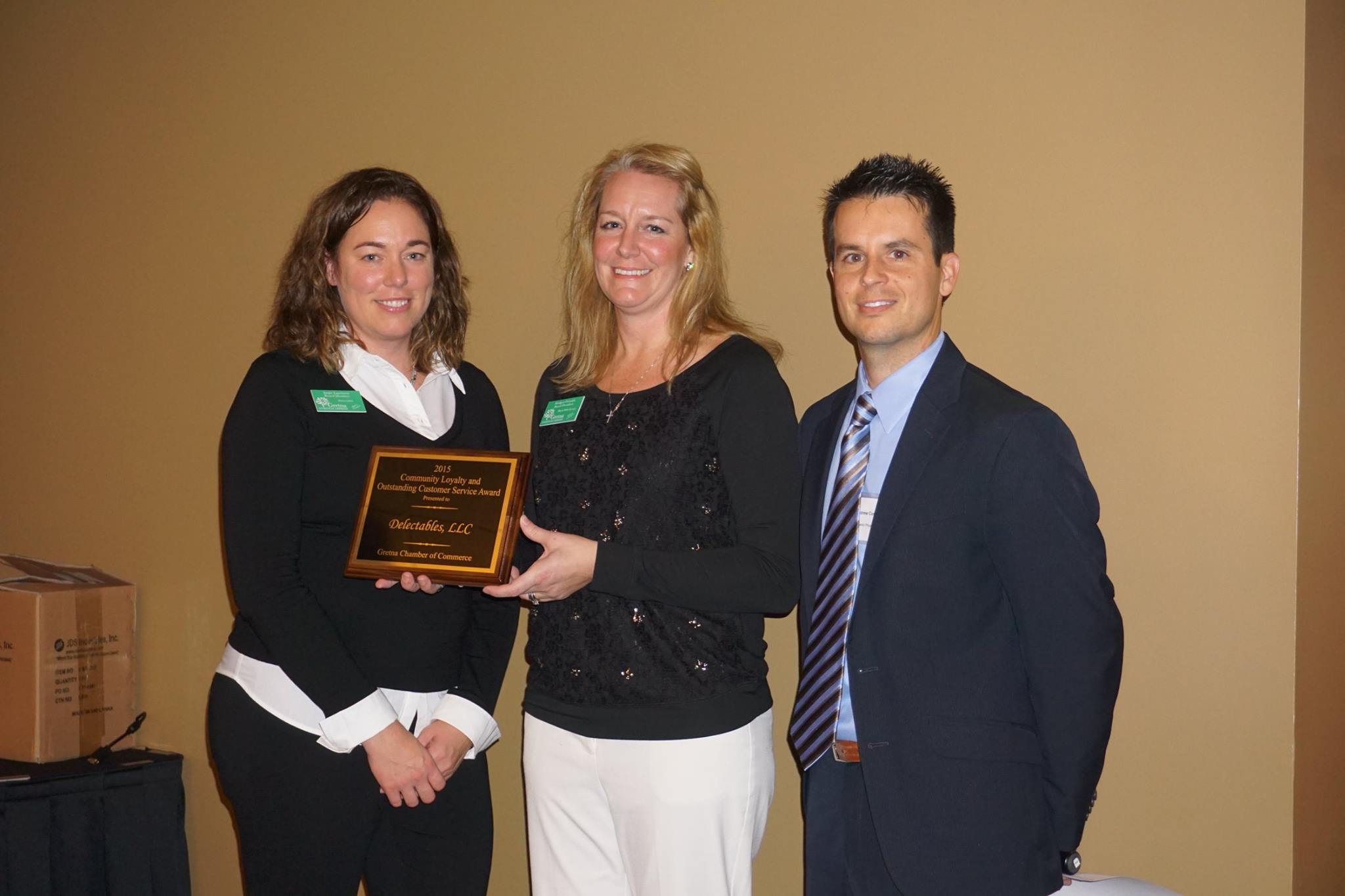 Journey Church - WINNER
Gretna American Legion Post 216
Gretna Optimist Club
Gretna Arbor Society
Gretna Campus Life
Gretna Booster Club
Gretna Lions Club